Company Logo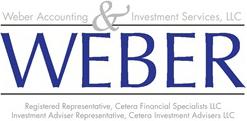 Email
raymond.weber@ceterafs.com
Disclaimer
Check the background of your financial professional on FINRA's BrokerCheck.
The content is developed from sources believed to be providing accurate information. The information in this material is not intended as tax or legal advice. Please consult legal or tax professionals for specific information regarding your individual situation. The opinions expressed and material provided are for general information, and should not be considered a solicitation for the purchase or sale of any security.
We take protecting your data and privacy very seriously. As of January 1, 2020 the California Consumer Privacy Act (CCPA) suggests the following link as an extra measure to safeguard your data: Do not sell my personal information.
Securities offered through Cetera Financial Specialists LLC (doing insurance business in CA as CFGFS Insurance Agency LLC), member FINRA/SIPC. Advisory services offered through Cetera Investment Advisers LLC. Cetera is under separate ownership from any other named entity.
This site is published for residents of the United States only. Registered Representatives of Cetera Financial Specialists LLC may only conduct business with residents of the states and/or jurisdictions in which they are properly registered. Not all of the products and services referenced on this site may be available in every state and through every representative listed. For additional information please contact the representative(s) listed on the site, visit the Cetera Financial Specialists LLC site at ceterafinancialspecialists.com
Home offices at 200 N. Martingale Rd., Schaumburg, IL 60173; phone 888-528-2987.
Online Privacy Policy | Privacy Promise | Business Continuity | Important Disclosures | Order Routing
Important COVID-19 NY EXECUTIVE ORDER
Individuals affiliated with this broker/dealer firm are either Registered Representatives who offer only brokerage services and receive transaction-based compensation (commissions), Investment Adviser Representatives who offer only investment advisory services and receive fees based on assets, or both Registered Representatives and Investment Adviser Representatives, who can offer both types of services.
4110 Progress Boulevard
P.O. Box 632
Peru, IL 61354
United States
Company Description
We are dedicated to providing investment management and strategic wealth planning that is right for you. Simply put, we strive to be our client's trusted advisor.